Cville Contact Improv Co-op: Contact jams and classes in Charlottesville, VA
A community-owned, cooperatively-organized, not-for-profit, by-donation Contact Improv organization, with facilitated contact jams, classes, and other events in Charlottesville, VA (with dancers from all around Central Virginia: Richmond, Lynchburg, Louisa, Roanoke, Harrisonburg, and out of town visitors from all over!)
Email:
organizers@cv
illeci.com
Facebook:
http://facebook.com/cvilleci/
Upcoming events:

Sat. 6/22 (10am-1pm): Global Underscore Contact Jam (simultaneously around the world)
Sat. 6/29 (10am-12:15pm): C.I. Class with Brad Stoller: "Avalanche: Dancing Downhill"
---
Upcoming events: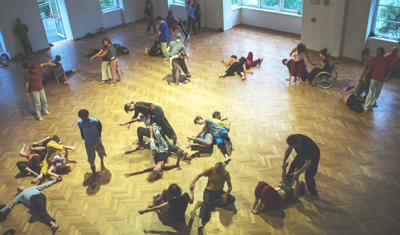 Saturday June 22nd, 2019 10am-1pm:
Global Underscore Contact Jam
Hosted by Emily Wright, Ken Laster, and Megan Renfro
Location details provided after registration
The Underscore brings awareness to the states that occur in the practice of contact improvisation. It follows the stages of arrival, development, and resolution that naturally tend to occur at contact improv jams. By naming the elements and flows of encounters with self and other, we are able to become more resonant with each moment and possibility. After the initial "assembly" of verbal check-ins, the score is danced as an open, focused jam until the final "harvest" time of sharing reflections of individual experience.
The Global Underscore happens simultaneously around the world on the summer solstice each year. Through this shared practice we grow the connectedness of the community in both practice and awareness.
A "talk through" overview of the underscore will happen at the beginning of the event. There are no rules or choreography to learn. All are welcome with the intention to dance with focus from your deepest self.
Open to movers of all experience levels. The event is by optional donation ($5-15 suggested), towards our not-for-profit Co-op's expenses (primarily venue rental). **Invite friends! FB event here.
REGISTRATION REQUIRED here. We will email you a confirmation with more details after you register.
---
Saturday June 29th, 2019 10am-12:15pm:
C.I. Class with Brad Stoller: "Avalanche: Dancing Downhill"
The exquisite art of C.I.. Falling one inch at a time into the bliss of freedom and abandon that starts with the smallest release and leaves you breathless and exilerated for more. Is there more? Yes, each level of release opens up another territory of exploration. The form of C.I. reveals itself to the student rather than an accumulation of techniques or steps where truly every student becomes their own teacher. The class will build up from little falls to larger ones so that safety is never an issue, stop when you need, go on as you wish, learn to float, trust in the floor never being farther away than an inch, softly softly softly finding home again again and again.
---
Cville Contact Improv Co-op is a community of dancers who organize regular jams, classes, and other events to build and nurture the Contact Improvisation community in and around Charlottesville.
Email us, or get on our announcements list, via organizers@cvfooilleci.com
Like on Facebook.